Ukoliko niste znali da Gmail može biti vaš email klijent. Skoro svi imamo gmail otvorenu adresu i google je shvatio popularnost toga i odlučio da omogući korišćenje gmaila svima čak i ako ne koristite google i gmail za slanje i primanje emailova (interfejs da ali ne i server).
Uputstvo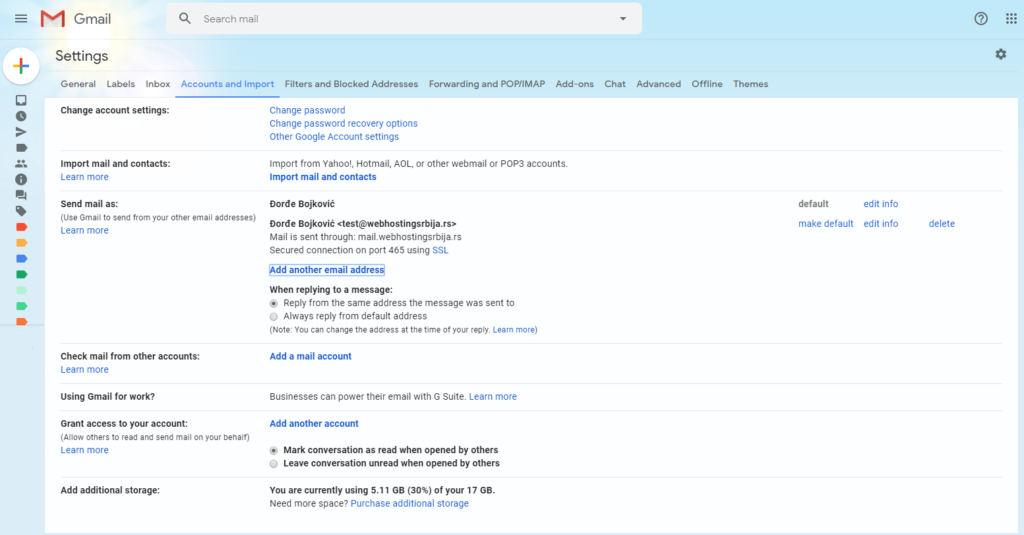 Na slici iznad vidimo kako izgleda settings u gmailu i opcija koja nam treba jeste "Accounts and Import".
U tom delu postoje i druge opcije a nama posebno za ovo naše upustvo trebaju dve a to je "Send email as" i "Check mail from other accounts".
Pre svega "Send email as" u toj opciji kliknemo sa desne strane "Add another email address". Čim otvorite pojaviće vam se popup kao na slici ispod.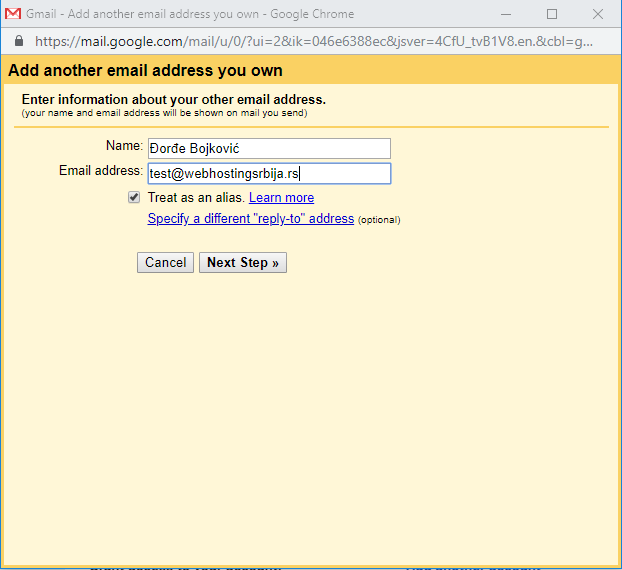 Ono što ovde unosimo jeste "Name" odnosno ime koje će pisati našem primaocu emaila kada mu pošaljemo i naša email adresa. Popunimo i kliknemo "Next Step".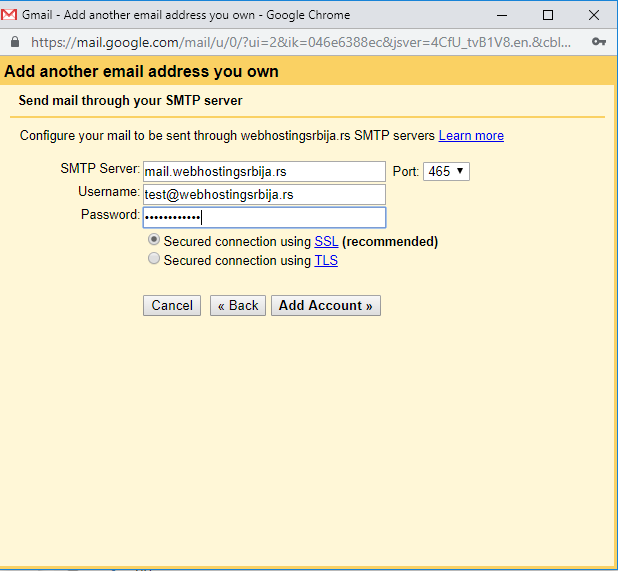 Sada u ovom koraku podešavamo SMTP server koji koristimo za slanje emaila. Ovde vidite da Gmail zapravo koristimo samo kao program kao što je outlook, thunderbird i slično i da zapravo email šaljemo sa hostinga i ličnog email servera a ne sa googlovog.
U prvom polju gde je "SMTP server" unosimo vaš server a to je mail.vasdomen.rs za port biramo 465.
Username ide CELA email adresa.
Password je onaj koji ste postavili prilikom kreiranja email adrese.
Kada smo završili idemo na "Add Account".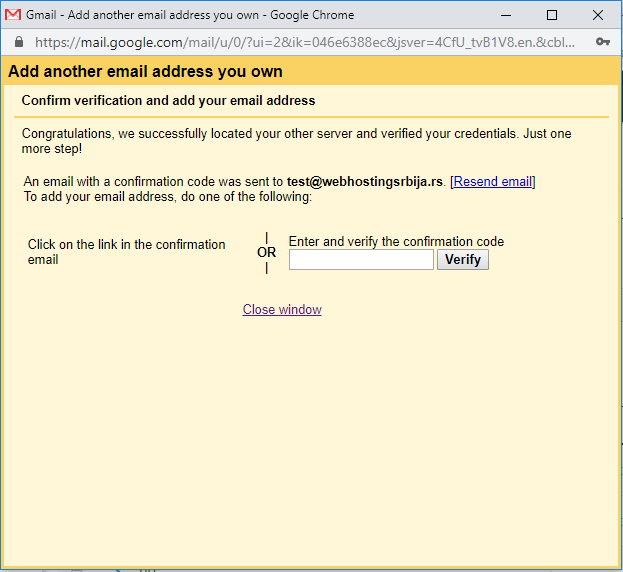 Sada u ovom koraku potrebno je da proverite vašu email i da kliknete na link koji vam je google poslao ili da unesete verifikacioni broj koji je takodje poslat u emailu.
Email možete da vidite tako što uđete na webmail.
Ulogujete u cPanel pa kliknete na Email Accounts a zatim na check email.
Sada kada smo uneli ostaje nam još jedna opcija.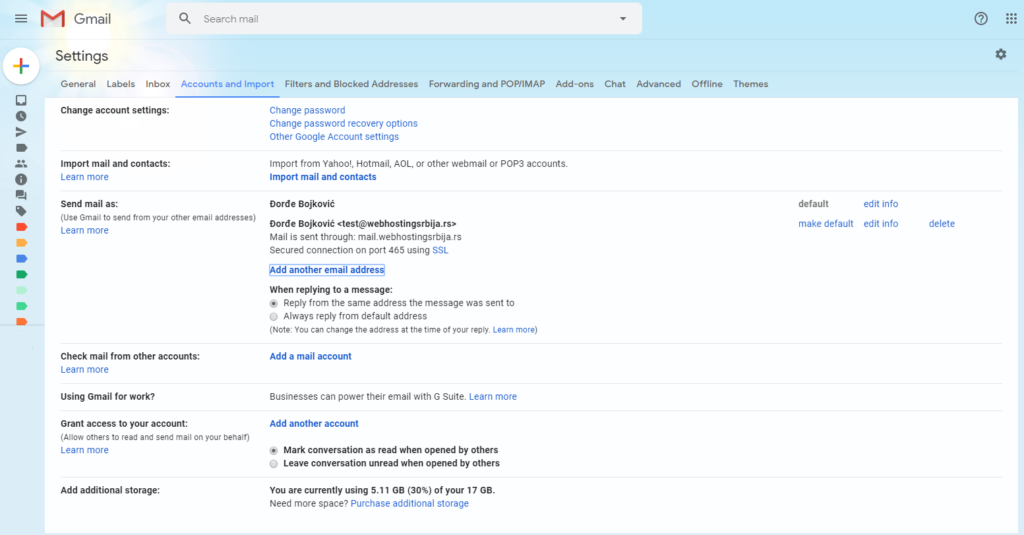 Sada u ovom drugom delu jeste da kada nam neko pošalje email da nam taj email stigne u Gmail. A to radimo tako što u delu "Check mail from other account" kliknemo na "Add a mail account".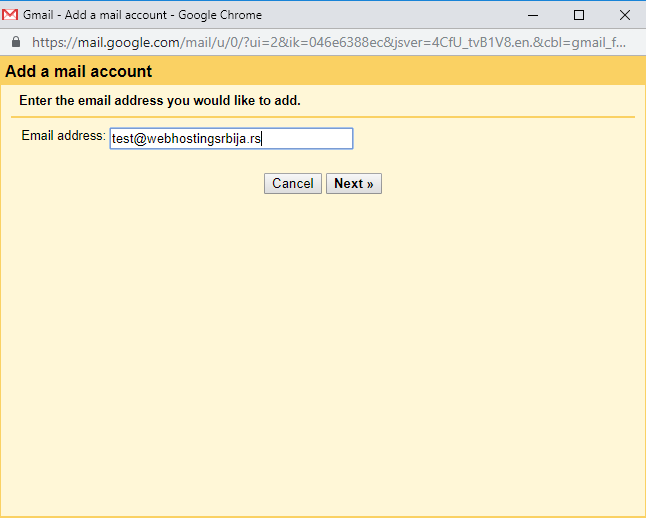 Ovde unosimo email adresu i kliknemo na Next.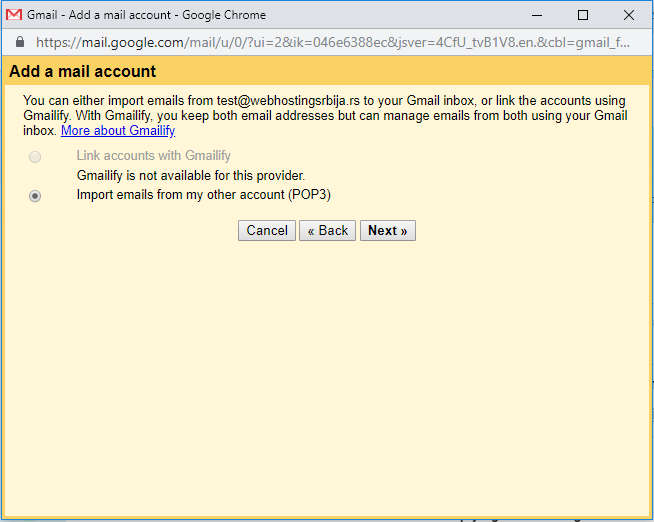 Ovde nemamo šta da biramo već nam je jedina ponuđena opcija već izabrana i kliknemo na "Next".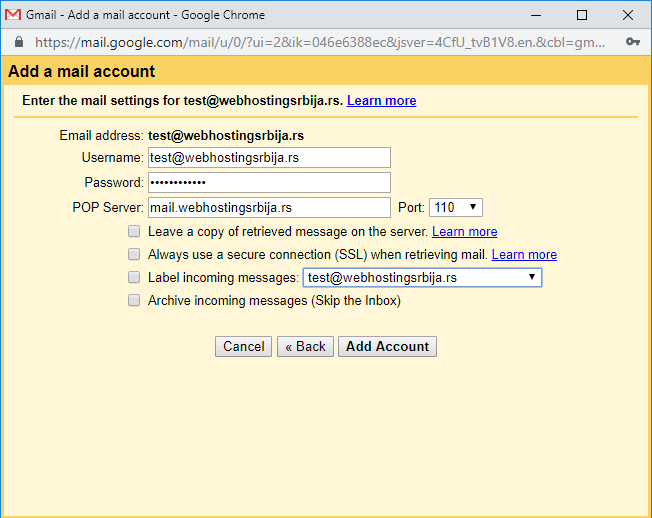 Sada je ovo najglavniji deo podešavanja a to su pristupni podaci kao i za svaki email klijent.
Username je CELA email adresa.
Password je onaj koji ste postavili prilikom kreiranja email adrese.
POP Server je mail.vasdomen.rs i port je 110 (može i 995 za SSL).
Ostatak ostavimo kako jeste i kliknemo na Add Account.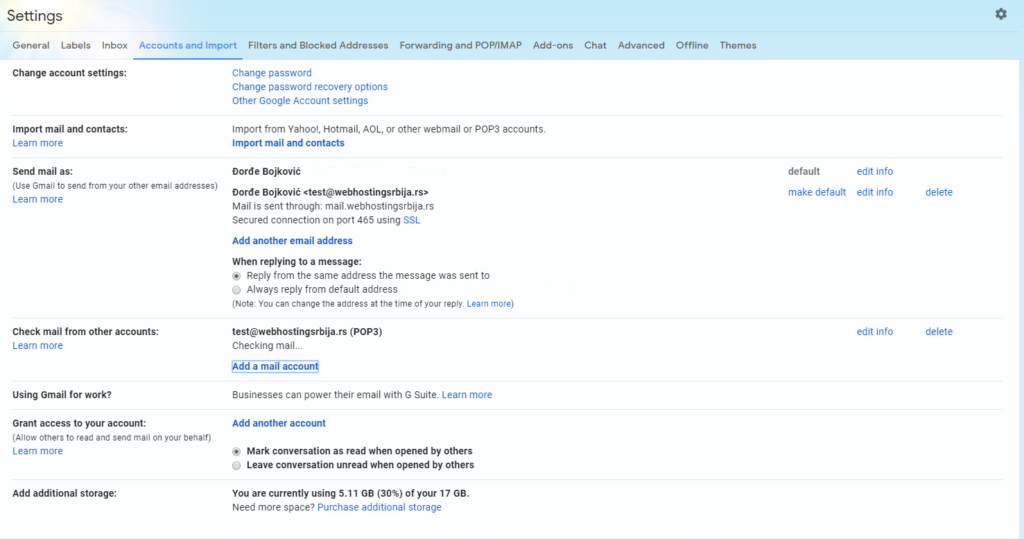 Ovim smo kompletirali sve i email je podešen. Sada možete poslati sebi email i videćete da će direktno stići na gmail. Imajte na umu da je podešen POP što znači da će se emailovi čuvati u gmailu a ne na serveru. IMAP nije moguć.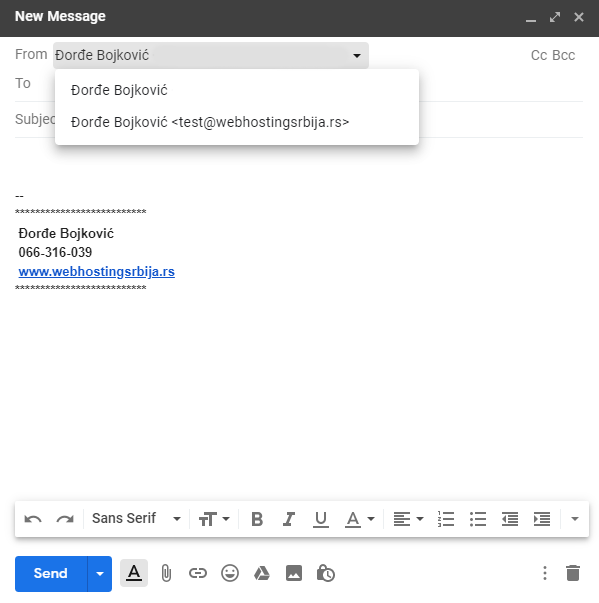 Sada prilikom pisanja novog email birate sa kog emaila šaljete. Takođe možete i prilikom odgovora da birate sa kog email želite da odgovorite.