Na jednostavan način moguće je resetovati lozinku bilo kog korisnika ako nemate pristup wp-admin/dashboard delu.
Za to vam je potreban pristup fajlovima sajta (cPanel/hosting/ftp pristup).
Pre svega vam je potrebno da se ulogujete i u cPanel pa zatim kliknete na File Manager a onda odete u root folder vašeg sajta obično je to public_html i tu imate par foldera i više fajlova. Vama je potreban folder wp-content unutar njega je potrebno da otvorite themes a unutar njega je potrebno da otvorite folder vaše teme.
Skraćeno: cPanel > File Manager > public_html > wp-content > themes > NazivVaseTema > functions.php
Kada ste došli do fajla functions.php potrebno da kliknete na taj fajl i idete EDIT.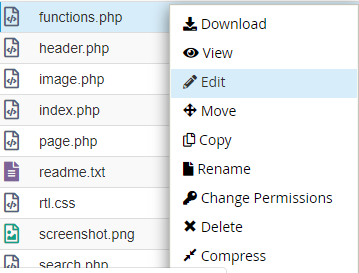 U novom tabu otvoriće vam se kod tog fajla vaše teme a vi trebate ODMAH iza <?php da pritisnete enter i da u novom redu unesete
wp_set_password( 'password', 1 );
Gde je reč password zaista password tu možete da postavite šta god želite koji god lozinku hoćete. A jedinica označava redni broj korisnika. Administrator tj vlasnik sajta uvek je jedinica svaki sledeći korisnik je neki veći broj.

Nakon čega je potrebno da kliknete desno gore "Save changes".
Ne zatvarajte ovaj tab.
Sada otvorite svoj sajt ili ga osvežite sa F5.
Vratite se u tab functions.php koji ste izmenili i obrišite wp_set_password
wp_set_password( 'password', 1 );
Kada ste obrisali idite desno gore na "Save changes".
Time ste promenili lozinku administratora na sajtu i možete se ulogovati.